Christmas break
. We had a slightly wakeful Sunday night which was either pre back to school nerves or the almost full moon. After a couple of days however they were well back into the swing of things. On the 2nd January Jacob turned 3 years old. He's in the
tout petit
section of the
maternelle
(nursery) and goes every morning. He's been attending since September last year and heads straight for the lego table in the morning and waits at the door with smile on his face when I pick him up for lunch. He's happy, he's made friends, despite the fact that he started with no French whatsoever and probably doesn't understand a lot of what is being said.
He's been coming home this week singing the alphabet...in French. His nursery teacher is pretty cool and has his guitar set up in the corner of the classroom ready to sing with the children a medley of songs in French and English. Having your English 3 year old come home from nursery singing in French sounds like an achievement, and it is. But in the back of my mind everytime he sings it I can't help but wonder if he also know how to sing the alphabet in English, and if he doesn't, it's because I've failed to teach it to him.
And so begins our first challenge as parents with children growing up bilingual. This has highlighted that it's not just enough to go about day to day thinking that talking to our children in their mother tongue is enough. If we want them to be fully bilingual we're actually going to have to actively teach them...a lot. When they come home from school with phrases and words in French we're going to have to teach them the equivalent in English. The songs that they sing in French, are there English versions that we can teach them alongside? Being 5 Reuben has had a head start with his English language (he knows how to sing both alphabets, I checked yesterday!) But many have told us that being so young, Jacob's French may end of being better than his English, and I can see now how easily that may be the case. Reuben is starting to show an interest in learning to read. I know they haven't started that in nusery so now is the time to give him a head start in reading English before he starts his formal French education next academic year.
Having bilingual children is a theme that will run regularly on this blog as our boys continue to learn. I know that there are many parents out there with multilingual children. Did you ever have a moment where you realised how much work you would have to do as a parent in keeping more than one language alive? What tips do you have for young language learners?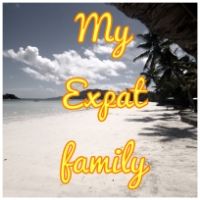 Linking up with
Seychelles Mama
and her
'My Expat Family'
linkup!
Also linking up with
Expat Life With A Double Buggy
!
9