This year my quest to make our Christmas wreath took me to
Jardin de la Mothe
, a private garden in Salles Courbatiès that began it's journey in 1997. In 2013 it earned itself the label 'Jardin Remarkable', and believe it or not, the garden is never watered. (That's my type of gardening!) It is so beautiful. Even at the start of winter with the trees shedding their leaves and frost melting in the sun, as you wander around it's hard to believe that it was all once just a field. The planting is inspiring. I came away with thoughts on what we could achieve with the little patch of land we have to grow on, and how we can keep it looking full all year round. Here are just a few of the pictures I took...
After a walk around the garden we sat down to lunch. Homemade chicken liver paté and humous, cous cous with roasted vegetables, spicy beef wrapped in filo pastry, and spinach quiche. Cake topped with raspberries and blackberries accompanied by meringues, all washed down with rosé wine and coffee to finish. It was all just delicious and we were truely spoiled!
But we weren't here just to lust after a beautiful garden, eat, drink and gossip! We were here to craft our own Christmas wreaths. Marion, whose garden we loved and food we devoured, hosts wreath making workshops in the run up to Christmas. The table where we had just had lunch suddenly became full of moss, ivy, and pine needles. There were baskets of dried oranges, cinnamon and pine cones. Little instructions were needed to get us going, as people started snipping away at branches and attaching them to their 'halos' of grape vine. After about an hour of tweaking, twisting and rearranging...here is the result!
I'm pretty pleased with it and it was such fun to do. Marion had wreaths around her garden from years gone by and I'm hoping that this survives a while. The nice thing is that it can be added to if bits (as I'm sure they will!) drop off. We'll hang it on our door closer to Christmas for all to admire!
Do you hang a wreath on your door at Christmas?
Becky x
Visit our
Facebook
page to see all the pictures I took of the garden.
Jardin de la Mothe
is open for guided visits, and every weekend in the summer you can enjoy drinks and patisseries made in house. If you're in the area I thoroughly recommend a visit!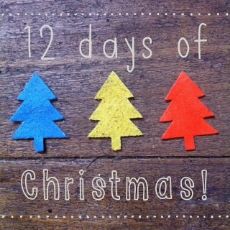 2